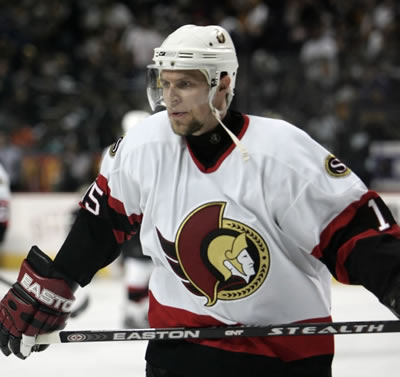 Now that Dany Heatley and his San Jose Sharks have been eliminated from this year's Stanley Cup playoffs, it's become vogue around the nation's capital to grab a shovel and heap excrement on the two-time 50 goal scorer.
And after the manner in which Dany left town, who could blame us? Most Senators fans would need some aggressive form of electroshock therapy to refrain from using each and every opportunity to poke fun at Heatley's expense.
The latest trend though is that many seem to be revisiting the Heatley trade itself and are questioning whether or not the Senators actually won the trade. In an entertaining read over at
Senators Extra
, James Gordon came to the conclusion that
maybe this trade wasn't the clear San Jose victory we once thought it was.
Rather then pen some new article that looks at the Heatley trade now, let's revisit what I wrote on the day that Dany Heatley's trade request was leaked to TSN. The article entitled
Oh Dany Boy
was published on June 9th, 2009 and I've posted it again below but with footnotes.